So, Chiefs fans, how ya feeling about ol' Bobby Sutton? Anybody ready to give him the keys to the city? No? How about declaring him master of all he surveys? Not there yet either huh? I can understand it if you are somewhat puzzled about the direction of the Chiefs defense for 2013. Sutton has very little to hang his hat on at this point and if you do a little digging, you can find some not-so-complimentary stuff about his time as a New York Jet.
I've said already that I believe that the KC fans acceptance of Andy Reid has been a bit luke warm. I had another poster take issue with my characterization, but if you look at the polls on another well known blog about the Chiefs, you'll see that the folks that were 'very happy' with the Andy Reid hire was only in the 60 percentile range. Now, I don't know about you, but given an extremely well known name like Andy Reid as your new HC, I'd think if the fan base was beside themselves with glee that number would have been much higher.
Maybe Reid's choices of assistant coaches is one reason that number is a bit low. In my opinion, the Choice of Bob Sutton as DC is one that is high risk/high reward. It's Reid swinging for the fences with his first choice out of the box. If it works, he'll be a genius. If it fails, it'sgonna be the first dominoe to fall. Let's take a look at Mr. Sutton so you can see what I'm talking about.
Bob Sutton's first, and before he was hired by the Chiefs, only coaching job in the NFL was with the New York Jets. Bob was hired by Al Groh to be the LB coach for the Jets in 2000. Bob had been there in some capacity ever since. I went back and did some research on how the Jets defense performed during those years, and while you certainly cannot draw any concrete conclusions about how good a defensive coordinator Bob is, you can get some idea of how he fared in that job as well as the positions he held as an assistant.
Bob's first six seasons in New York were all as LB coach. His first year was under Al Groh as HC and then the following five seasons were with none other that Squirmy Herman Edwards as HC. I don't know how much credit or blame you can give a LB coach for overall record of a team, but during those years, the Jets went 48-48 in the regular season and made five playoff appearances (all under Herm) winning 2 and losing three.
The defense during those years languished in league rankings in the 20's until '04 when they turned in a 7th place finish. Then in '05 they were 12th. Even so, they finished that '05 season at a 4-12 record (which apparently was good enough at the time for Herm to go to work for the Chiefs--sheesh) which led to letting Herm go and bringing in Eric Mangini.
This is when it gets interesting. When Mangini came aboard, he promoted Sutton to DC. Hey! Finally made the big time. The problem is, that those three seasons, when Sutton had more control over the defense and how it was run than he did at any time before or after during his tenure with the Jets, the team was nearly a dry hole in terms of playoff appearances. Bob Sutton has been DC of an NFL football team in the playoffs exactly once. They lost a wildcard game to the Patriots in 2006 (his first year as DC) 37-16. Bob never ran the defense again in a playoff game.
There was plenty of blame to go around for Mangini's time in NY, but
some who were close to the team wondered out loud
if it was Sutton who was the problem. The article questions Sutton's stewardship of that defense and indeed that defense averaged 18th over that three year span after coming off of a 12th and 7th place finish the previous two seasons. 2008 was particularly telling. Mangini's offense scored nearly 25 points per game that year and had a +51 point differential over their foes, yet could only finish with a 9-7 record and miss the playoffs for the second year in a row. It wound up costing Mangini his job.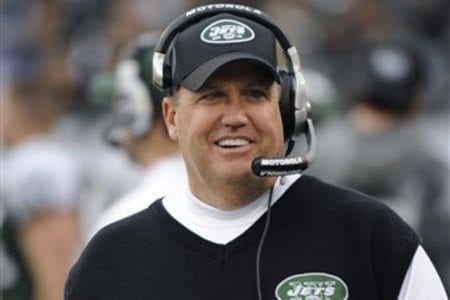 In 2009, in walks Rex Ryan. Rex is one of two sons of the infamous Buddy Ryan whose defensive prowess as a coach in the NFL is well documented. Suffice it to say that Rex knows his way around a defense. What was Rex's first move as the new HC? He demoted Sutton to Senior Defensive Assistant and hired Mike Pettine. Pettine was given a three year contract as DC and was held over another year. He just finished with the Jets this year. Unfortunately for the Jets and Ryan, Pettine did too good of a job. He was recently hired as DC for the Buffalo Bills.
Pettine's four year stint as DC with the Jets was definitely a cut above what Sutton accomplished. During that time, the defense finished 1st, 3rd, 5th and 8th respectively. The team played in six post season contests with a record of 4-2, twice making it to the conference championship game.
Where was Sutton during all this? He was there. He was the Senior Defensive Assistant/LB from 2009-2011 and then he was 'promoted' to Assistant Head Coach/LB in 2012. It's important to note here that as far as the NFL is concerned, an assistant coach is an assistant coach. Meaning, that the designations within the assistant coach ranks are really only there because of tenure. In 2009, Bob Sutton was demoted to SDA/LB and I would think with a reduction in pay to match. In 2012, he was apparently given a pay raise and a new title to support it. The question here is, "What, exactly, did Bob Sutton have to do with running the NY Jets defense during Mike Pettine's tenure?".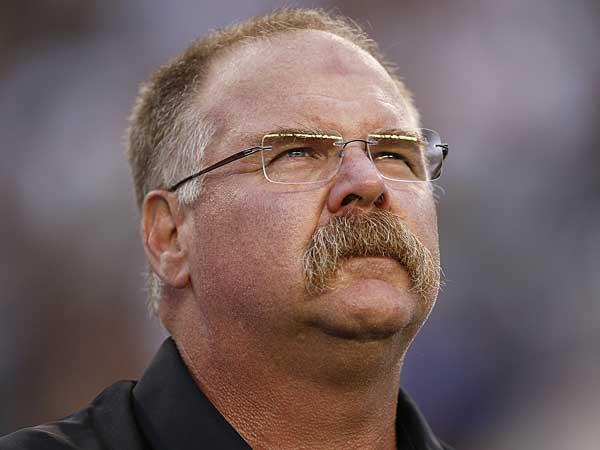 This, my fellow Chiefs fans, is the question that Andy is looking for guidence to in the above picture. This is why I say that this choice is a high risk/high reward one. The success of this pic depends on much that is yet unproven. Bob Sutton, by the only accounts we have to look at, did not improve the Jets defense when he took over as DC in 2006. The real improvement came on Pettine's watch. What is yet unknown is whether or not Sutton actually took the demotion he was given as a second chance opportunity or if he simply held on long enough to find a way out.
This is the question that I'll be asking myself quite a bit throughout this offseason and into training camp and preseason of next year. Did Sutton learn anything from Rex and Mike? Bob was already something like 48 years old when he got that demotion. Did he view Pettine's success on his heels as adding insult to injury, or was he looking for answers that Mike was able to help him find? Is the saying true about teaching an old dog new tricks? For good or ill my friends, it looks like the Chiefs are going to find out.
I'm going to be doing quite a bit of this kind of digging on the new slew of coaches that Reid has hired. As always, I'll be here to pass along anything that I find interesting. Let's hope that Reid knows what he's doing. I find that I'm already getting tired of saying that.
One final note on Sutton. KCChiefs.com has a little interview with Mr. Sutton that was just posted. You can find it
here
. I saw a few comments made about what he had to say, but if you really read through it, he doesn't say much at all. What I thought curious was this:
"Well, honestly, I think that the transition is going to be kind of similar to one that I went through when I was with the Jets. We were in the exact same defense that they played here the last couple years under Romeo [Crennel], it's a great system of defense – the true 3-4 – and then when Rex [Ryan] came into the Jets, which has many similarities to this but it has a little bit more multiple and was different schematically how we line up. But a lot of principles to me stayed the same.
Notice how he says that "A lot of principles stayed the same". I hope that means that he learned a lot about how to improve what he was already doing, rather than meaning something along the lines of, "I already knew the basic principles and we are going back to what I did with the Jets". If he did indeed learn from Rex, then Sutton could be a big part of the solution. If not, he could just as easily be a big part of the problem. We don't need anymore problems in KC. Here's to solutions. We need a bunch of them and we need'em fast.