Do you see what Mr. Bowe is doing in the picture above? I'd characterize what he's doing as scoring points. In ways that the vast majority of NFL wideouts can't. The man is a major talent in this league, yet many Chiefs fans want to see Dwayne cut loose. Why? Well, ostensibly because they say, Dwayne wants to get paid and he ain't worth it.
All I can say to that is, "If you were Dwayne Bowe, wouldn't you want to get paid?". I have written a long piece on another website called Arrowhead Pride that discusses the comparison of Dwayne Bowe and the player known as Megatron. You can find that article
here
. I'm not going to rehash all the information in that piece, but suffice it to say there is considerable reason to consider DBowe as an elite option in this league.
For some reason though, fans continue to hate on Bowe. They like to discuss his dropped passes and his route running as though they are so substandard that he doesn't even belong on an NFL field. This, of course, is just not true, but for some reason since Bowe isn't the second coming of Jerry Rice, he just isn't worth a big money contract. That premise my friends is just not accurate.
Dwayne is worth a very large contract. You gotta believe that Pioli agreed with that since he decided to hit him with the franchise tag last year. Otherwise he would have let Dwayne test the free agency market. From a purely business standpoint, franchise tagging Bowe should mean that Pioli thought that he could not have retained Mr. Bowe for less than the 9 million that he ended up paying him on the tag. That means that some team out there is willing to pay Bowe a lot, and that in turn means that Bowe is WORTH a lot in market value.
Look at this last season. We were once again QB challenged (as we have been during Bowe's entire tenure as a Chief), and yet, Bowe gets 801 yds receiving and 3 TDs. Paltry numbers to be sure, but doing that playing for the CHIEFS in 2012? When the crowd cheered a QB injury at home? Bowe also missed three games due to injury, so that means that he still averaged over 60 yds per game played. He now sits at 177th all time on the list of receiving yards in the NFL. He's only going to be 29 when next season starts. Exactly how high on that list will he finish? How much is that worth?
I just don't understand the people who think that Bowe simply isn't worth the money for what he provides. ANY player that you could draft will have to go a long way to prove that they can do what Bowe has done consistently since he started stealing receptions and yards from Tony Gonzalez six seasons ago.
I have already outlined my feelings about why Mr. Bowe is worthy of his piece of the NFL pie in detail. You will find that info
here
. Frankly, I almost wish Bowe had held out all of last season. That's just me looking for payback though. Bowe actually did the right thing. Given the circumstance, I think Bowe has helped to keep his value on the open market at a high level.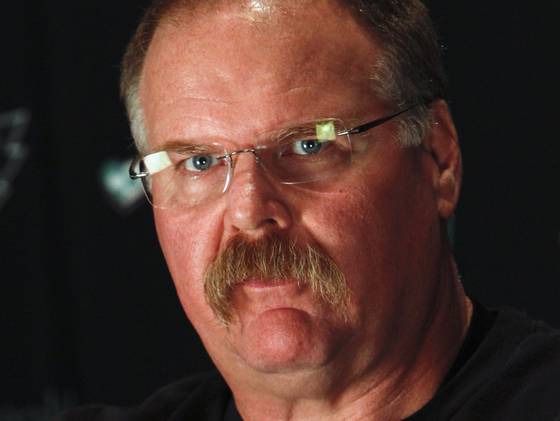 I also think that Andy Reid is going to do whatever he has to do to keep Bowe in KC. Reid's offenses are pass oriented, and there is simply no one around that gives Reid the same value that is as easy to acquire. I think he keeps Breaston as well. Breston is exactly like a Jason Avant or a Hank Baskett. If you followed the Eagles at all over the last few years, you know who those guys are. Can you imagine the passing offense we could have if we get an above average signal caller?
Bowe has said (in a round about way) that he wants to be a Chief. He likes being a Chief. It's where he made his bones and it is now a part of him that will always be. I think Bowe has been mistreated by Pioli and by extension Clark Hunt. I believe that Hunt and Reid will make up for that with a nice contract.
All of this plays well into my desires for what happens with Andy Reid in KC. Reid is just good enough to be in KC for a long, long time if he so desires. I want him to be successful, but if he isn't, I want it all to come crashing down quickly. The last thing I want is 10 seasons of almost good enough with no payoff pitch. IMO, if he let's Bowe walk, he is already beginning the process of driving nails in his own coffin.
I am so ready for the Super Bowl to be over and for this process to move on. Dwayne Bowe is a Chief. He should continue to be so for the rest of his career. I know that Clark Hunt has publicly stated that he wants long term relationships. Guess what? That won't happen without long term contracts. Bowe, probably more than any player in recent memory, is worth the effort and the money. How often do the Chiefs get home grown talent through the draft like Dwayne Bowe? The fans think it's ok to just let that go? Not me brothers and sisters. Not on your life.
I hope Andy agrees. I think he does. We are about to find out a lot when the rubber meets the road in just a few weeks.
Tell me Chiefs fans, what do you think?